..I'm a take wild guess and say she's trying to say she can suck big dick or something?..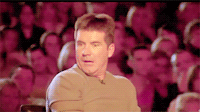 ..Bitch WTF are you doing?..
..This how you get it cracking in the club?..
..Is this a new dance?..
..Look at nigga in the back pointing like, "This bitch can suck a big dick, huh?"..
..If a bitch ever do this shit while I'm doing my 2 step with her, I'm moonwalking all the way back to my house away from that creepy bitch..
-Def
P.S. Shouts to @AlreadyGotEm