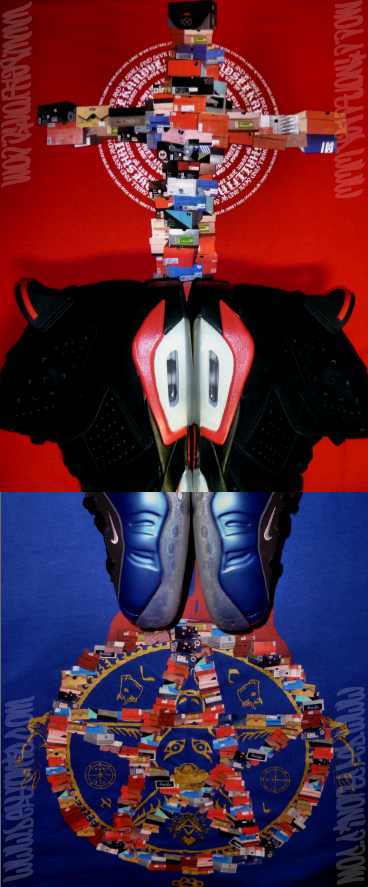 ..Picture has some meaning behind it, as you can see in both pictures there's a Cross and a Pentagram comprised of sneakerboxes on the T-shirts, symbolizing Heaven and Hell..

..The way I see my life in the sneaker game I feel blessed to own a lot of sneakers, because I know not many ppl can obtain every sneaker they would like to own, but being a sneakerhead has it's downfall, any TRUE sneakerhead will tell you being one is a disease..

..Every sneakerhead has a story in which they've went through "Hell" (pun intended, lol) trying to get a certain sneaker that was hard to obtain, only to feel "Blessed" and even thanking God they finally got that Sneaker..

..Another great note to point out is, The cross being on a red background (color that symbolizes Hell/Devil) and the Pentagram being on a blue background (which can symbolize the sky, in which Heaven is located)..

..Sneakers used (upper picture Air Jordan Infrared VI's, lower picture Air Foamposite One "Royals")..


..Look between the soles of the Air Foamposite One "Royals" and you can see Red dripping onto the Pentagram..

..Also if you look at the top of the Infrared VI's the shadow kinda portrays horns..

..I am in no way this overly spiritual person or anything like that, I just felt the idea of capturing this would be much more than your typical sneaker picture..
-Def
P.S. No Illuminati! .lol